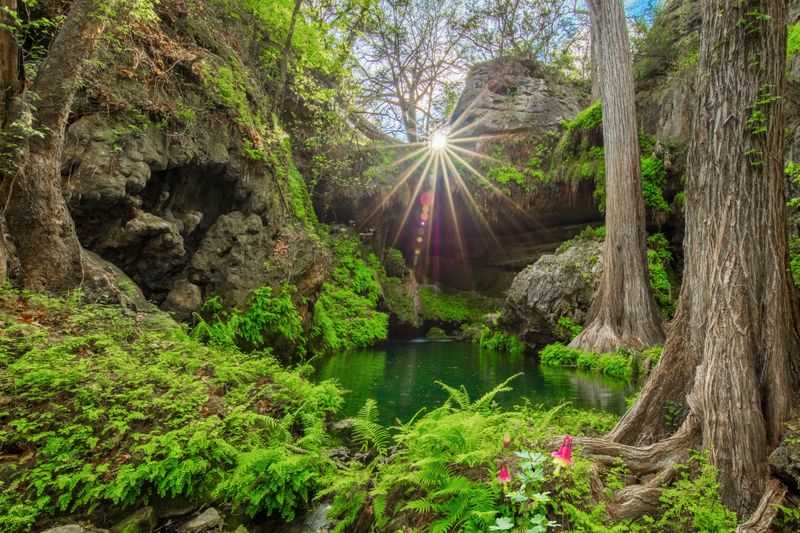 WESTCAVE SCIENCE! RESEARCH & DATA COLLECTION AT THE PRESERVE
Have you ever wondered how the Westcave Preserve landscape changes over time? Or what our cave formations can tell us about the surrounding environment? Or which bird species frequent the Preserve? At Westcave we have these nerdy curiosities as well. We know that the key to harboring and encouraging a healthy ecosystem is good ole fashioned data, which assists our Conservation team in making informed decisions on protecting and conserving the land. At the Preserve we currently have many cool research projects, some of which are sets of data that have been collected for decades. Each scientific project offers a unique outdoor learning experience and insight into the Preserve.
Staff, volunteer, and University-led research projects include:
· Golden-cheeked warbler territory surveys – data reported on this endangered species is included in the Balcones Canyonlands Preserve (BCP) annual report to U.S. Fish & Wildlife
· Cave and climate research – led by the University of Texas at Austin this research measures speleothem (scientific word for "cave formations") properties to study changes in climate and, more specifically, to understand droughts
· Endemic Texas Barberry plant – used internally for monitoring land management
· Photo points on the Uplands – an internal land management tool to demonstrate change of the landscape over time
· Precipitation totals – data collected and kept internally
· Floral and faunal lists – used internally for monitoring land management
We are proud to be a part of several Citizen Scientist programs including:
· Nest Watch monitoring program – data reported to the Cornell Lab of Ornithology to track the reproductive biology of birds
· Project FeederWatch – data reported to the Cornell Lab of Ornithology to help scientists track bird populations
· Dragonfly Migration – sightings of dragonflies and data reported to the Migratory Dragonfly Partnership to better understand and conserve North America's dragonfly migration
· Colorado River Watch Network – data reported to the Lower Colorado River Authority (LCRA) to monitor water quality along the waterways of the lower Colorado River watershed
· Christmas Bird Count – data reported to the National Audubon for online publication
Future research and data collection will include monarch butterfly monitoring, malta-star thistle removal research, avian productivity and survivorship program, and bird banding.