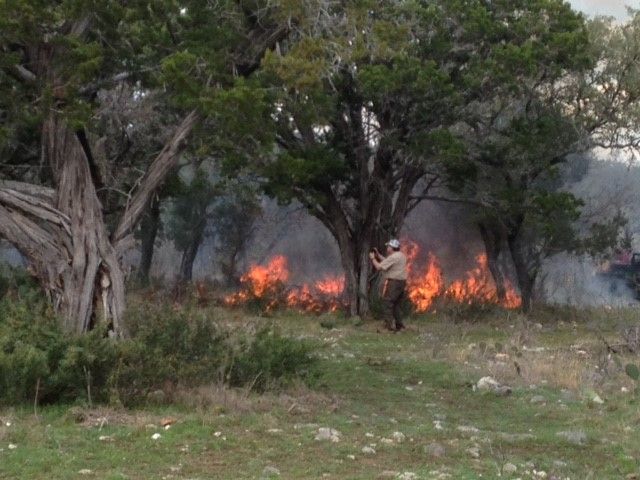 WESTCAVE ON FIRE!
Leap Day 2016 marked an exciting day for Westcave as our Uplands underwent its first prescribed fire as a beginning step in restoring 12 acres to its previous prairie ecosystem. The land management tool of a prescribed fire aims to safely reduce invasive and non-native plant species and to encourage a native and diverse vegetation community. Prescribed fires will help maintain the diverse animal species of Westcave, including the endangered golden-cheeked warbler, whose habitats depend on periodic fires to help sustain a healthy ecosystem. Prescribed burning also reduces the catastrophic damage of uncontrolled wildfires on our lands and surrounding communities.
Westcave is actively creating a native Prairie Restoration Demonstration Area through the use of periodic fires to control woody species and re-vegetate the area. After the Leap Day prescribed fire, staff and volunteers tilled and reseeded the prairie restoration area with native grass seeds. Thanks to all of our volunteers who came out to Westcave to spread some seed and return the Uplands to its native state!
A special thanks to the U.S. Fish and Wildlife Service, the Balcones Canyonlands National Wildlife Refuge Fire Program, Lake Travis Fire and Rescue, and the Austin Fire Department for conducting our prescribed fire. It was a great success!