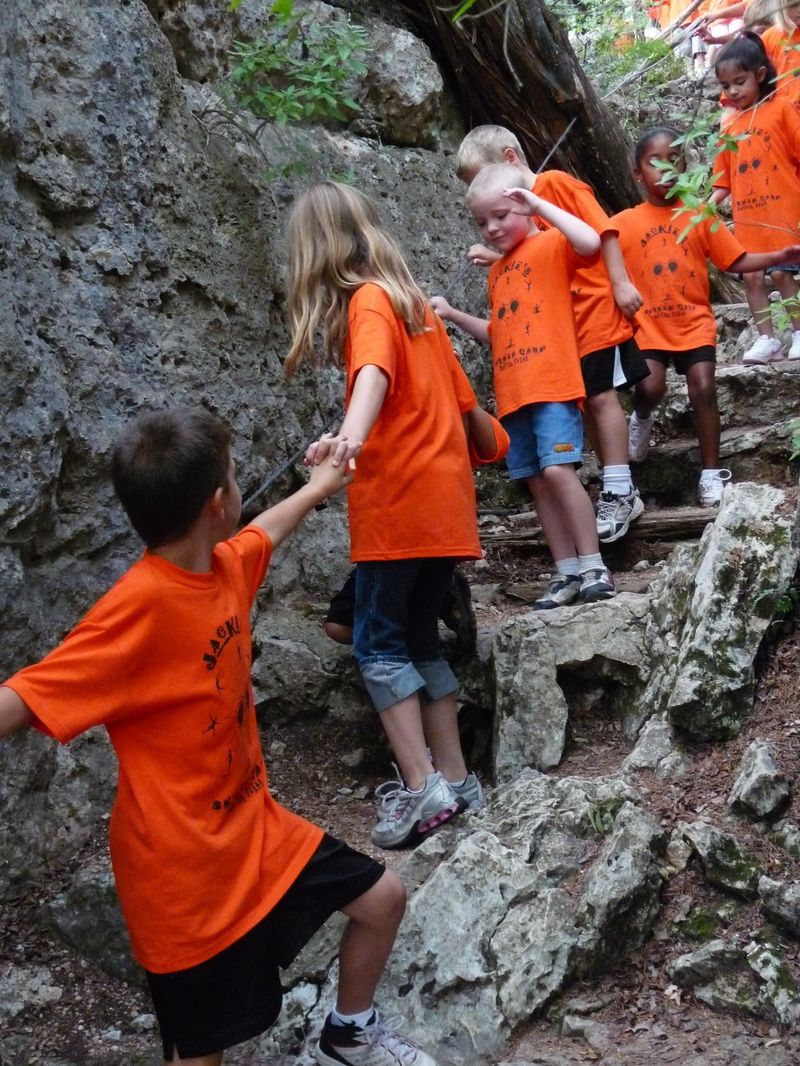 WEEKDAY WORLD OF EDUCATIONAL ADVENTURES
We are often asked, "What happens at the Preserve on weekdays if Westcave only offers guided public tours on the weekend?" The answer is: We are fulfilling the educational component of our mission to "inspire people to develop a lifelong practice of enjoying and protecting nature through educational programs…" At our Preserve, visitors not only witness a place of extraordinary beauty, they observe a living laboratory. Here is a peek into a typical week of education programs.
Mondays are a day of rest for the Canyon and is reserved for staff meetings, scheduled maintenance, and program prep. Tuesday through Friday, our staff provides tours and education programs to schools and organized groups by reservation only. Our education team works with various types of groups. One week in October we hosted multiple classes from a local elementary school, one home school group, a senior 55+ hiking club, a UT Sustainability class, and a German Line Dancing group who were visiting Texas.
One of the Senior 55+ hikers proudly told Paul Vickery, Westcave's Education Director, as she reached the top of the Canyon stairs, "Not bad for an 82-year-old woman." This was said just a few feet away from the limestone inscribed quote by John Muir, "In every walk with nature one receives far more than he seeks." Guests come to the Preserve for various reasons but the impression of a visit can last a lifetime. A trip to the Preserve is not just about what you see and learn but also who the shared experience.
The Preserve's 2016 attendance has already surpassed the total 2015 attendance which, at the time, was a record-setting year. What is even more exciting is that there is still space to accommodate more weekday reservations during the year. Do you have a school, company, work group, or other special interest group that would benefit from a guided walk in nature? If so, give Paul Vickery a call or email to schedule an educational adventure: 830-825-3442 or Paul@westcave.org.