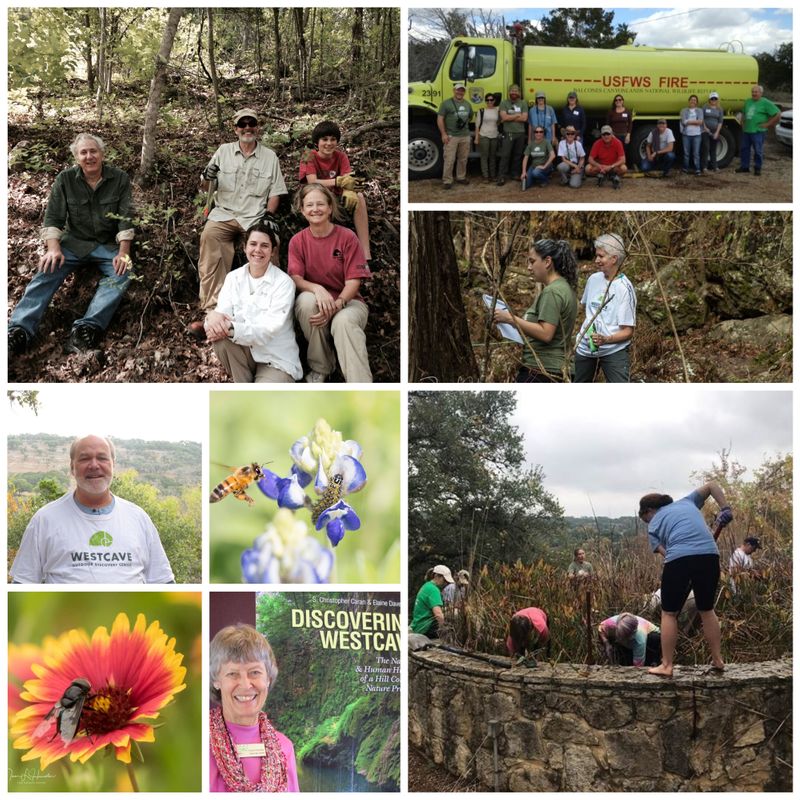 VOLUNTEERS NURTURE OUR NATURE
Who puts the Nurture in our Nature? The Soul in our Work?
It's our fabulous volunteers!
As we reflect on what was great in 2017 our volunteers are at the top of the list. We can't say "Thank You" enough! Without their support Westcave would operate on a much smaller scale. Their love for nature is palpable and their impact is tremendous. Because of these passionate and knowledgeable guides, cheerful welcome desk greeters, and dedicated conservation devotees Westcave Preserve interacted with over 17,500 guests in 2017.
Westcave volunteers come from a myriad of places including individuals, college interns, and organized groups such as Junior League of Austin, Austin Youth Works, and multiple Master Naturalist programs from Hays County, Capital Area, and Balcones Canyonlands. All in all, our 180 enthusiastic volunteers contributed more than 2,100 hours during the year of 2017.
This past December, Emelia Rose and Tom Hausler were each awarded Westcave Volunteer of the Year for going above and beyond and contributing over 250 combined hours. Emelia Rose, daughter of Erich Rose, started volunteering while her father was Westcave Preserve Weekend Manager. With her continued service, she encourages our visitors to take a closer look at the secrets that lie within our Environmental Learning Center. Tom Hausler, an award-winning photographer, helps with conservation activities, lends a hand to construction projects, and gives his talents in his remarkable photos of Westcave Preserve and its creatures.
We are always eager to expand our Westcave family and have a variety of volunteer opportunities to meet everyone's interests. We want you to join us in the fun of enjoying and protecting nature. Please contact Conservation Director, Amber, or Education Director, Paul, about volunteer opportunities for 2018!