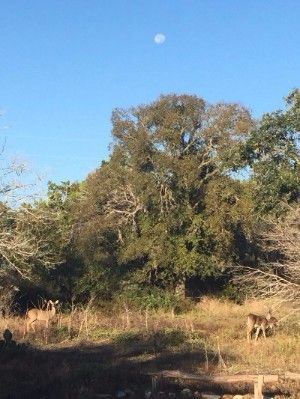 THE QUIET SIDE OF WESTCAVE PRESERVE
It's 9 AM on a Tuesday morning…the gates are not yet open to visitors and there are just a few staff members on property. Everything is quiet at Westcave Preserve except for Mother Nature's wisps of wind through the trees, songs from our feathered friends, flowing water, and the occasional spotting of a resident mammal. This is the quiet side of the Preserve - - a real treat for Westcave staff who observe the slow changes as well as the routines of the natural world.
Preserve visitation fluctuates throughout the year. There are times when merely a handful of guests visit over a weekend threatened by freezing temps or thunderstorms. Then there are times when the parking lot is completely full and 200-300 guests pass through the Environmental Learning Center in one day. Regardless of how slow or busy the Preserve will be, it all begins and ends quietly.
The quieter side is experienced on a daily basis when the Preserve truly reveals its natural state: deer eating by the front gate when we open the lock or the gray fox running across the parking area while we grab our radios. A swarm of bees gathered on a tree in the spring or the overnight diggings of an armadillo along the trails. The golden-cheeked warbler and other birds call through the stillness while the lizards run, hide, and sun - - their summer routine.
Each one of us lives a busy life where we get caught up in mundane tasks and we forget to observe, smell, listen, and enjoy nearby natural elements. We challenge you to take thoughtful steps this week and enjoy the outdoor moments that surround you. We hope you can find the quiet side of your yard, neighborhood, and place of work.
"In every walk with nature one receives far more than he seeks." ~John Muir