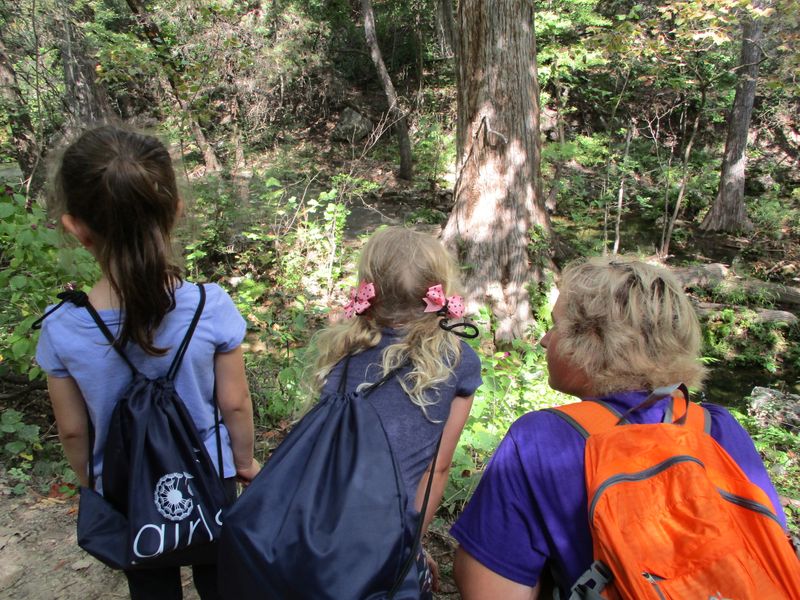 SUMMER EDUCATION HIGHLIGHTS
Summer has arrived and with that a transition occurs at the Preserve. The weekday school programs end as the final dismissal bell rings from a spring semester. Day camps and other organized youth/adult programs now take the place of those school field trips. Here's what else we're up to this summer:
Westcave offers two public Guided Canyon Tours every Friday during the summer. Visit us for a tour at 10 AM or noon on Fridays through August 10th. (As always, we have weekend tours, too.)
In partnership with El Buen Samaritano and the Shield Ranch, Westcave supports several programs for the El Ranchito summer camp providing a nature-immersion experience for youth aged 4th-12th grades.
This summer has also brought on new partnerships with several East Austin schools (Sims, Ortega, Allison, and Govalle elementary schools), to participate in our Blair Woods summer programs. The following is a reflection from this summer program.
"Notice What You Are Noticing"
Earlier this week our education team provided a summer program at Govalle Elementary in their outdoor courtyard. The students were instructed to look for other living things who were sharing the courtyard with them. It was quiet as the students strolled and observed the courtyard. It was not long before they discovered ant mounds, spider webs, eaten leaves, and blooming flowers.
Then it happened. A group of students announced, "We found something!" They were looking at the base of a tree and saw something crawling on the ground. Once the rest of the students overheard, "It's a millipede", they all came over for a look. The millipede was small and trying to hide in the leaf litter and grass but not before every student got a look.
From there, the students took a closer look and started to notice even smaller things. The staff tried to keep up with providing information about each of their discoveries, but no sooner than a discussion started that another discovery was proclaimed. These students were living in the present moment. Rocks were turned over to see what else could be hiding from plain sight. A broken bird egg shell was found on an abandoned compost pile, and the smallest of small spiders was in a web between two sunflower stalks.
A first grader took one of our hands and lead the way across the courtyard where she climbed on a picnic bench to point at a brown pod hanging from a tree. "What is that?" she said. She was engaged, curious, and ready to learn about her discovery. The staff member responded, "It's a seed pod to this mountain laurel tree and when it opens some red seeds will fall out like the ones we see on the ground. A purple flower bloomed this past spring and once pollinated it grew the seed pod." Satisfied with that answer she moved on with her partner to continue their discoveries of the courtyard.
This "notice what you are noticing" activity lasted 20 minutes before moving on with the course of the three-hour program. At the end of the day, during the final wrap up, students shared that the courtyard exploration was a highlight of the program.
A simple statement can open a pathway of endless discoveries. How often do we slow down and give our undivided attention to the moment that we are living in right now? We all fall victim to being busy and over scheduled. Our brains are processing so many kinds of stimulus, information, and technology that any avenue of distraction can pull us away from noticing the nature around us.
Are you up for a challenge? Schedule ten minutes each day this week to "notice what you are noticing" in a green space near you. Take a partner if you'd like to share your discoveries. Don't worry about knowing what something is. This is a time of discovery and you can always research or ask someone about it later in your day. We would love to learn about your discoveries so please share them with us via email or on one of our social media accounts.
Happy Discoveries!