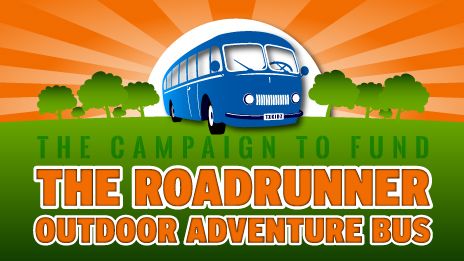 READY FOR ADVENTURE? HERE COMES THE BUS!
This month, Westcave purchased an 83-passenger 2001 Bluebird school bus, and has begun the process of transforming it into the Roadrunner Outdoor Adventure Bus.
Why the Roadrunner? For low-income families, the greatest barrier to spending time in nature is transportation. This also holds true at Title 1 schools serving low-income families: Buses simply cost too much and are not available for the number of hours needed for a robust field trip.
The Roadrunner Outdoor Adventure bus is designed to help eliminate the transportation barrier so that more children can learn about and benefit from nature. In addition to transporting children to and from Westcave Preserve, this bus will be made available to all members of the Children in Nature Collaborative of Austin (CiNCA), a group of 30+ member organizations led by Westcave Outdoor Discovery Center. Our CiNCA Partners will only need to pay for the cost of the bus driver and fuel when engaging with low-income families and children. Examples of how the Roadrunner Outdoor Adventure Bus will be used include:
· Transporting kids from Title 1 schools to Westcave Preserve for a day-long field trip highlighting key science curriculum and concepts
· Partnering with Explore Austin to take high school kids to Inks Lake for a transformational weekend
· Sharing the bus with Camp Fire Central Texas to take 15 underserved families for their first-ever campout at Enchanted Rock
Now that Westcave has purchased the bus, we're working to recondition, insure, promote, schedule and staff the Roadrunner Outdoor Adventure bus.
How will the Roadrunner benefit our community? In the coming two years:
· More than 7,500 children will enjoy the wonder and joy of nature
· More than 60% of the children using the Roadrunner Outdoor Adventure Bus will come from underserved communities
· Schools will be able to extend their time on field trips from 3 to 6 hours to enhance outdoor engagement and scientific literacy
· Low-income families will have weekend opportunities to get out into nature
· Our 30 CiNCA Partner Organizations will have access to low-cost transportation
· Westcave will be able to offer free transportation and scholarships to Title 1 schools for Westcave Preserve programs
The Roadrunner Outdoor Adventure Bus is made possible by the generous support of Impact Austin, as well as the many donors who contributed to our Indiegogo campaign and our 2014 Celebration of Children in Nature auction. Many thanks to you all!