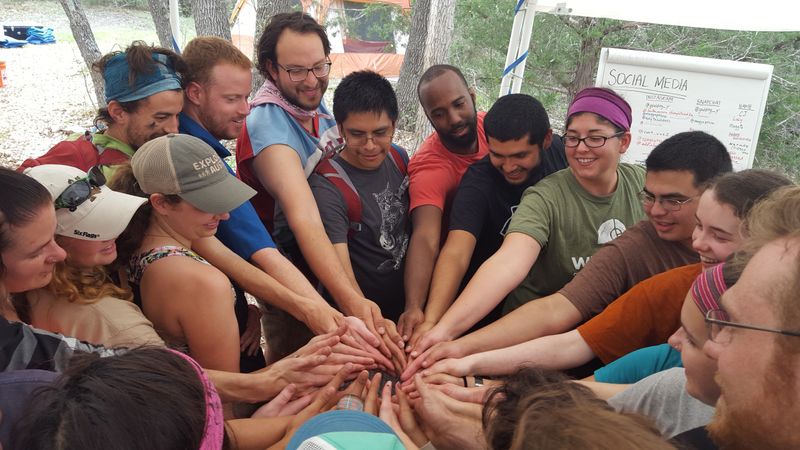 LEAVING A LEGACY: A WEEK SPENT OUTDOORS
Thirty people walked into the woods over Spring Break. It would be five days before they returned home.
They were hoping to leave a legacy… to create something larger than themselves… to make a difference. And they needed the perfect place to do it.
They chose the outdoors.
They called it Legacy Camp. Organized with the support of Westcave Outdoor Discovery Center, the Children and Nature Collaborative of Austin, Texas Parks and Wildlife, and the Children and Nature Network, this five-day camp was designed to empower young people to get kids outdoors.
The camp was held at Shield Ranch in the Texas Hill Country and taught leadership skills, community organizing, goal setting, and the power of the personal narrative to young people between the ages of 18 and 28. The idea was to empower them to be the leaders of today, and to join the movement to get children and people of all ages to enjoy, respect, and conserve the outdoors.
Now that Legacy Camp has ended, all of the participants join a national network of hundreds of Natural Leaders who have been through Legacy Camps held throughout the country, with help from the Children and Nature Network. They also leave camp with action items to implement social change in their own communities, whether that be starting a community garden, attending a city council meeting, or creating an outdoors club for under-served children. Since this Legacy Camp was held right outside Austin, many of the participants live in the city and already have exciting plans to get kids outdoors right here in Central Texas. As Legacy Camp Trainer Maggie Patterson said, "That's the magic of Legacy Camp."
Article written by Amy Stansbury, Editor-In-Chief of the Austin EcoNetwork, Member of the Westcave Outdoor Discovery Center Board of Directors, and a member of the Natural Leaders Network