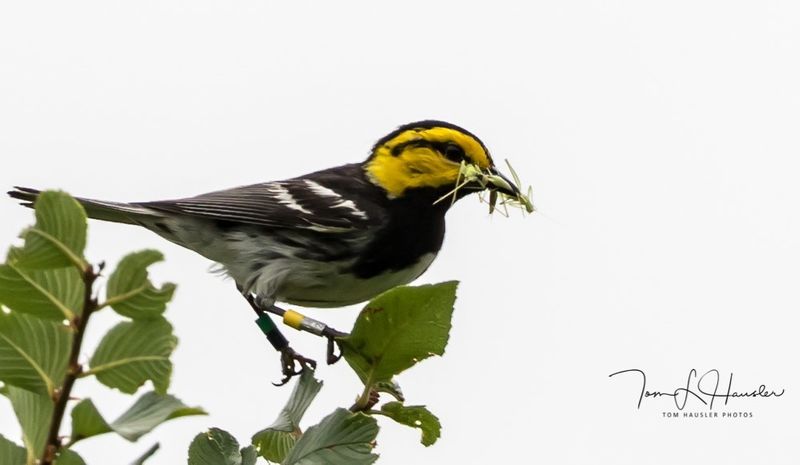 GOLDEN-CHEEKED WARBLERS RETURN TO WESTCAVE PRESERVE!
How we study & help the survival of this endangered species
Westcave eagerly awaited the arrival of the endangered Golden-cheeked Warbler (Setophaga chrysopari), one of the more celebrated bird species at the Preserve. The first male graced Westcave with his presence on March 6th, early as compared to their arrival in recent years. Every spring, this warbler species returns only to the Texas Hill Country to nest and raise its young. Westcave Preserve provides the unique habitat required to sustain this species' population, whose numbers are threatened primarily by habitat loss and also by a brood parasitic bird named the Brown-headed Cowbird.
As part of a focused effort for avian research at the Preserve, Biologist Dawn Houston and Westcave Conservation Staff implemented a species-specific monitoring program for the Golden-cheeked Warbler. In order to accurately monitor the endangered bird, surveys are conducted by spot-mapping throughout the breeding season. Detailed information is also gathered to determine nest success and survivor-ship. So far this season, three males and two females have been identified with nesting material.
Westcave is also part of a multi-agency bird banding and re-sighting project. This year, City of Austin biologist John Chenoweth banded three Golden-cheeked Warblers at the Preserve. Last year he banded two males. The research project is used to determine the most accurate estimate on return rates, dispersal, and survival of the warblers.
Westcave is part of the Balcones Canyonland Preserve system, a multi-agency preserve system of over 30,000 acres set aside for protection of endangered, threatened, and rare species.
You can hike with us this spring for an opportunity to catch a glimpse of the Golden-cheeked Warbler. Specialty Spring Programs include Spring Bird Walks (Apr 14, Apr 23, and May 7) and the new Birds & Brew (May 5th). Please join us by registering today!
More about the Golden-cheeked warbler-
https://www.allaboutbirds.org/guide/Golden-cheeked_Warbler/overview