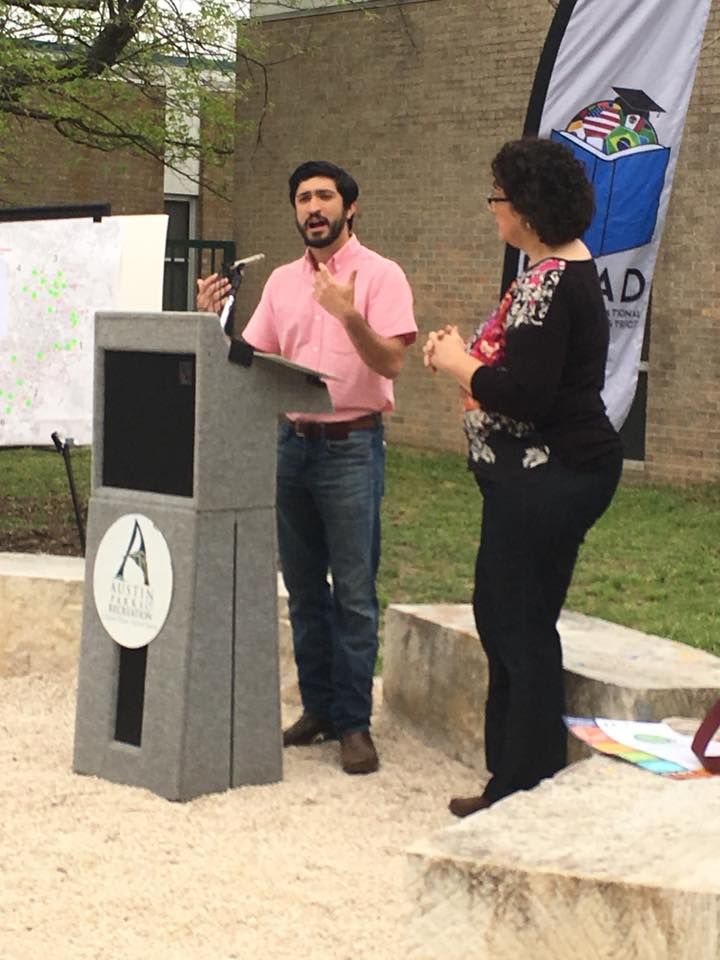 FIRST GREEN SCHOOL PARK AT BARRINGTON ELEMENTARY
The City of Austin Parks and Recreation Department in partnership with Austin Independent School District held a public dedication and ribbon cutting ceremony at Barrington Elementary School to celebrate the first Green School Park.
Speakers at the event:
· Greg Casar, Council Member
· Paul Cruz, AISD Superintendent
· Gilma Sanchez, Principal of Barrington Elementary
· Brent Leisure, Executive Director of State Parks, Texas Parks and Wildlife Department
· Dr. Stephen Pont, Medical Director, Office of Science and Population Health, Texas Department of State Health Services
The Green School Park Program is a citywide initiative of the Austin Connecting Children to Nature (ACCN) Program. The Barrington Elementary Green School Park is a partnership between Children in Nature Collaborative of Austin, Austin ISD, READ, Austin Police Department and Watershed Protection Department.
The objective of the Green School Park Initiative is to improve the outdoor space of a campus to foster a child's daily connection with nature and increase physical activity. Research shows that children who learn and play in nature are healthier, both mentally and physically, have higher self-esteem, and feel more capable and confident in themselves.
"With a focus on greening school yards and creating a new network of school parks, Austin will be able to provide daily access to rich nature environments for tens of thousands of students across the city and strengthen communities with access to new park space", Mayor Steve Adler stated. "We look forward to the opportunity to contribute to this burgeoning national movement and build a relationship with the school district that is stronger than it has ever been."
The Green School Parks Initiative will create outdoor learning environments on 24 AISD campuses in neighborhoods in Austin where access to the parks are limited. These school parks will serve as outdoor classrooms, providing garden-based education and play as a means to integrate nature experiences into school curriculum. The school parks will also serve the surrounding community during out-of-school time where families can play, explore and connect with nature in a safe, convenient space.
"Austin ISD is dedicated to providing natural areas where children can learn and play on a daily basis to increase their overall time spent in nature", Anne Muller, Outdoor Learning Specialist with Austin ISD said. "Over the last decade studies have shown that children who have regular interaction with nature have lower levels of stress, have improved test scores, concentrate more easily in class, and are less likely to be obese or have other health problems."
Dr. Ruben Pizarro, Parent Support Specialist at Barrington Elementary School stated, "The goal of placing a green park at Barrington Elementary, is to give students, their families, and the residents of the Rundberg area, a park that is open and ready to be enjoyed. Everyone in the community will be able to enjoy this park and help get connected with nature."