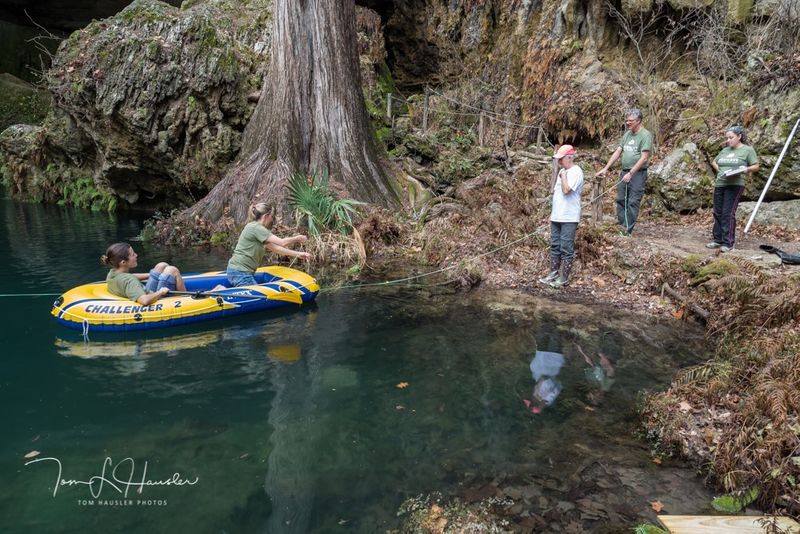 EXPLORING THE DEPTHS OF THE GROTTO POOL
"How deep is the grotto pool?" This curiosity is a common question received by Westcave tour guides from our Preserve visitors. Based on dated information, the typical response has been, "The deepest part is somewhere between 18 and 20 feet depending on recent flood activity."
In January 2017, the Conservation Team set out to obtain an updated, quantifiable answer to this age-old question.
Conservation staff and interns devised a grid system and took depth measurements every two meters across the length and width of the pool by use of a weighted rope marked in one-foot increments. Working together, the team of interns, staff and volunteers stretched a metered guideline across the grotto while staff worked their way from one end of the pool to the other in an inflatable raft.
Over a four-hour period which included a brief rain storm, a drenching soak under the waterfall, an exploration of overhanging stalactites, and complications involving a water moccasin, the team finished their measurements and the project was a wrap.
The results? The pool floor varies in depth, sometimes greatly. The shallowest point, located near the great bald cypress tree, is less than a foot deep, while the deepest point measured is just before the waterfall. Our Westcave tour guides can now say with scientifically-backed confidence that the deepest part of the grotto pool is 20-feet deep.
Thanks to the Winkler Family Foundation and the James A. "Buddy" Davidson Charitable Foundation for their generous donations to Westcave which make conservation projects like this possible.