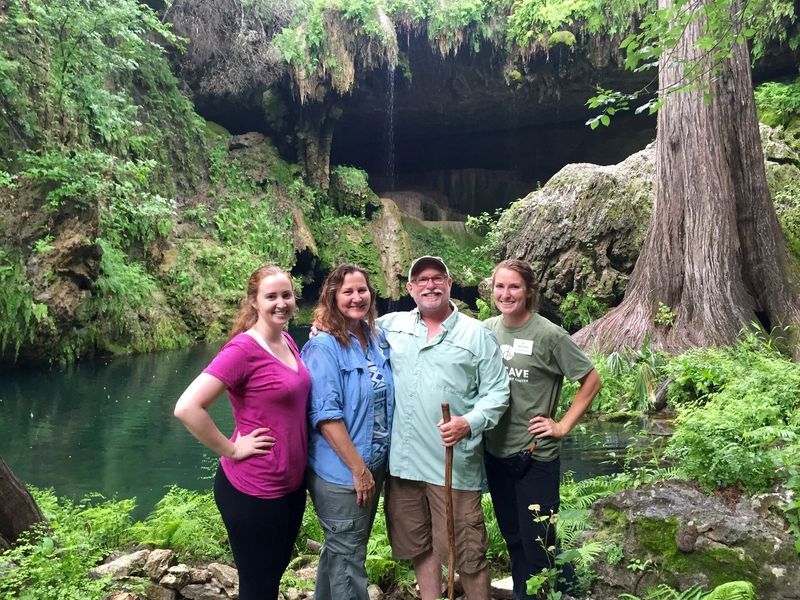 EDUCATION: THE STORY OF HANNAH KUHL
This late Spring, we knew a busy Summer was approaching so we added a new seasonal position to support the growing Preserve operations. Hannah Kuhl was selected for this role. Why did she want to be a Natural Science Educator at Westcave Preserve? This is her answer:
When this opportunity presented itself I was thrilled because I knew it would be a wonderful way to challenge myself to learn new things while also having memorable experiences in nature. I had nothing but positive memories of Westcave from my childhood, so I knew that the Preserve was capable of making a lasting impact on those who visit. I was immediately excited to learn more about the history, geology, and biology of the area. I also knew that I would gain valuable public speaking experience while trying to convey this information to fairly large groups of people.
Hannah is a recent graduate from Trinity University in San Antonio and spent the summer in Austin before starting graduate school in the Fall. She said:
The timing of this job could not have been better. It helped me to remember how passionate I am about learning these things just before moving to Charleston, South Carolina to pursue my Masters degree. I learned many valuable life lessons from being a tour guide and attempting to relate to the very diverse population of guests that visit Westcave. In each of my tours I did my best to connect with as many people as I could and convey my passion for the outdoors in a way that made them more excited about nature by the end of the day.
One of the more memorable moments for Hannah was standing close to a water moccasin while a group of school children passed along the trail. This was early in her training and she was not used to being around these snakes so the experience left her heart pumping. Another memorable moment was while outside she overheard a young boy's request to his father, "Can we please go get some fresh air??". Hannah realized the irony of this statement. Most people are referring to the outdoors when they use the phrase "fresh air," but this child meant the air conditioned building. She found this whole situation to be a good example of the culture that has developed amongst the youth in our country—lots of time indoors looking at screens in "fresh air". Hannah said, "I'm glad that Westcave is able to provide a meaningful outdoor experience for kids, which will hopefully instill in them a passion for nature."
Finding time to enjoy nature while on the job can be challenging but one of Hannah's favorite spots is sitting on the bench in grotto. "I especially enjoy this spot after everyone in my tour has left the area to start their hike back up (to the visitor building). I would often sit down in the grotto area to relax for a few minutes after a tour. It is an incredibly beautiful, peaceful spot that I was lucky to experience alone at times."
Hannah's time at Westcave was only a summer but the memories she created will last a lifetime. Hannah has already moved to Charleston, South Carolina to attend the College of Charleston. She intends to get her Masters in Environmental Studies and participate in the Peace Corps International program with a plan to do international Conservation Biology research. We wish her all the best in this next chapter in life and look forward to her updates and future visits to the Preserve.
"Without any kind of knowledge about the natural world, people are not able to fully understand how incredibly important it is for us to preserve as much nature as we possibly can." - Hannah Kuhl