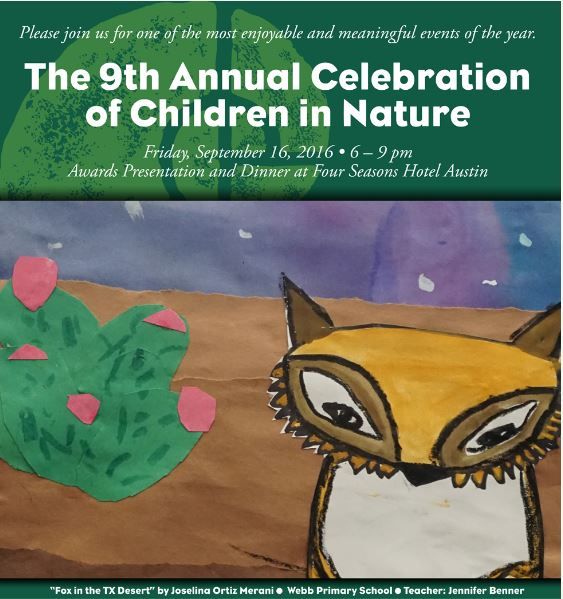 CELEBRATION OF CHILDREN IN NATURE
On September 16, 2016 Westcave Outdoor Discovery Center and presenting sponsor H-E-B will host one of the most enjoyable and meaningful events of the year: The 9th annual Celebration of Children in Nature – Awards Ceremony & Dinner. The event will feature a fine art and photography auction which is available for Online Bidding now and during the Silent Auction at the event. We will honor four Central Texas award winners who represent 2016's most innovative and successful initiatives that are regularly connecting kids with nature. The proceeds from the Celebration of Children in Nature go toward The Children in Nature Collaborative of Austin (CiNCA), a core program of Westcave. Carter Smith, Executive Director of Texas Parks & Wildlife Department, will be the Master of Ceremonies for the event. This year's event is especially significant as Westcave celebrates its 40th year of connecting people to nature! Please join us! Tickets are still available.
Through their efforts, the Celebration of Children in Nature Award Winners are helping to reduce the symptoms of "nature deficit disorder" – a term coined by bestselling author Richard Louv in his book Last Child in the Woods. The term "nature deficit disorder" refers to the phenomena that today's kids are spending too many hours in front of multimedia screens, and too little time outside enjoying and learning from the natural world. Westcave is working to change this trend and will be honoring the individuals and organizations in our community who also do the important work of connecting kids to the outdoors.
2016 Celebration of Children in Nature Award Recipients:
· John Covert Watson Award for Vision – The Meadows Center for Water and the Environment
· John F. Ahrns Award for Environmental Education – Collins Van Nort, founder of Earth Kids at Barton Hills Elementary
· Westcave Award for Enduring Dedication – Phyllis Schunck for the "Casis Forest"
· E. Lee Walker Award for Collaboration – Marya Fowler, National Wildlife Federation, and Anne Muller, Austin ISD, for "Discovery Hill"
The fun of our Celebration of Children in Nature continues beyond the event when you participate in our best-ever auction! You could go home with a fabulous South African safari for two, a house concert with one of Austin's iconic musicians, works by world-renowned artists and photographers, a case of award-winning wine, tickets to a live ACL taping, and much more. Our Online Auction is LIVE now until September 14th and will continue into the event's Silent Auction. You can participate in the online auction even if you can't make it to the Celebration event! Also, take a look at a preview of our Live Auction items.
WONDER AND JOY. IT'S OUR NATURE!