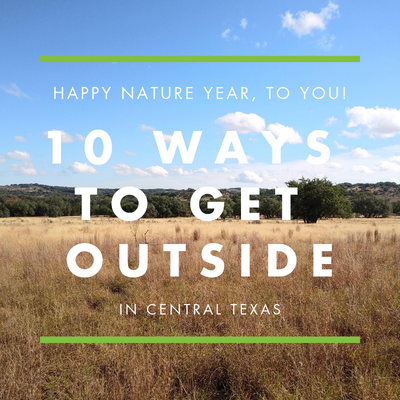 10 Creative Ideas for Getting More Nature Time
New Year resolutions often integrate improving our health. With the richness of nature in Central Texas, we put together a list of ideas where you can shift ordinary routines to outdoor adventures.
1. Move your coffee date with a friend to a walking date around Lady Bird Lake.
2. Plan for a weekend hike with the family to re-connect with nature… and with yourself. Bring pencil and paper to sketch the journey.
3. Picnic in a city, county, or state park. Leave it better than you found it by bringing an extra trash bag.
4. Replace the Saturday morning cartoon time by setting up a bird feeder and watching with your kids. Take pictures to help identify the birds.
5. Date night under the stars: Attend a local star party with your spouse, partner or family. (Star Parties at Westcave Preserve, Reimers Ranch, Austin Astronomical Society, or the Texas Night Skies Festival to name a few.)
6. Lie outside in a hammock or on a blanket and observe the shapes of the clouds.
7. Arrange for your work's Staff Development Day to be in a nature-rich environment, like the Warren Skaaren Environmental Learning Center at Westcave Preserve.
8. Beat the summer heat! Explore the underground world of Central Texas caves: Inner Space Caverns, Longhorn Cavern State Park, Natural Bridge Caverns, Westcave Preserve, or Cave Without a Name.
9. Volunteer at a local nature preserve for a fun, heart-filled family day, like at one of Westcave's Conservation Volunteer Days.
10. Explore water in a canoe, kayak, inner tube, or just take a swim in a natural place (Barton Springs, Hamilton Pool, Pedernales River, or Krause Springs.)
Bonus: Be mindful of the nature near you every day.