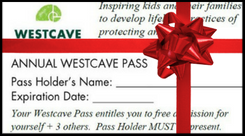 Annual Pass to Westcave Preserve
Gain access to Westcave year-round with an Annual Pass.
Passholders may bring up to 3 guests for admission to Westcave during regular public access hours:
Canyon & Cave Tours: Sat & Sun 10,12 & 2 (weather permitting) + 4pm (February-November)
During March – November we experience a high volume of visitation. Tours may fill quickly. Gates open at 9:30am on weekends.
Upland Trails Access: Tues - Fri 10- 2pm, Sat & Sun 9:30 - 4pm