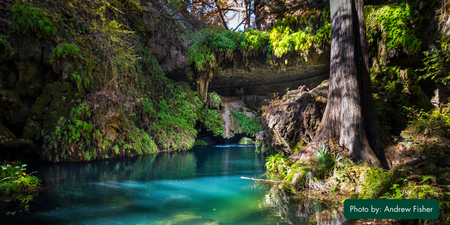 WALK THROUGH THE GROTTO
By Reservation Only
plus your guide to provide social distancing. Event capacity is adjusted to be in compliance with local and state orders related to COVID-19. Throughout your experience, your group will be physically distanced from the other groups and your guide. Please call if you have questions.
Your guide will take you along a 15 minute walk from the waiting area in an arid savanna through a limestone crevice down a 100 foot staircase into a sheltered canyon of lush plant life. After a 15 minute walk you will reach the head of the canyon where a stunning 40-foot waterfall stands replenishing the grotto pool below! Guests will have 30 minutes to absorb the beauty of the grotto area and relax. Your guide will rotate the household groups around so each group can enjoy the different views of the waterfall and inside of our 1-chamber room cave, while keeping a physical distance from one another and the guide. The event will conclude with your guide sending each household group back through the canyon and exiting the staircase, an approximate 15 minute walk. Guests can then proceed back to their vehicle.
Access to the canyon, cave and grotto is only permitted with a supervising staff member. The staff member will remain at a distance and provide verbal updates about timing. All events are weather permitting.