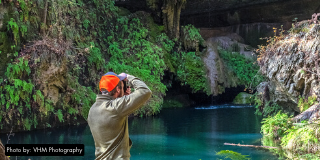 GUIDED PHOTOGRAPHY GROTTO HIKE
Prepare yourself to capture the majestic beauty of our unique Texas Hill Country nature preserve through your camera lens that will leave you breathless! Our photography tours take visitors along a 15 minute walk from an arid savanna, through a limestone crevice, down a 100 foot staircase into a sheltered canyon of lush plant life. At the head of the canyon stands a stunning 40-foot waterfall replenishing an emerald pool below.
Guests will have a little over an hour to photograph and absorb the beauty of the grotto area without feeling crowded or rushed. Your guide will point out different angles that you can capture in front of and behind the waterfall, and inside of our 1-chamber room cave. After about a hour, your guide will give you a 15 minute warning to get any last photographs before hiking back up to the visitor center, an approximate 15 minute walk. Participants will also have free access to Uplands after their guided photography grotto tour.
*Access to the canyon and cave is by guided tour only.*
Cost: $30/Adult
Dates:
March 28 | 8am (Canceled due to COVID-19)
April 18 | 8am (Pending COVID-19 Restrictions)
May 2 | 8am
Duration: 1.5-2 hours
Each tour has a maximum capacity. To reserve your spot, BOOK ONLINE.
Westcave's Photography Guidelines
You and all of your photography equipment must stay on the trail at all times (includes all gear & persons).
No collecting or disturbing any natural materials.
No natural object, other objects, or props are allowed down into the canyon beyond your photography equipment.
No drones
No foods or drinks are allowed down the trail, except bottled drinking water
By signing up for this tour, you have agreed to the following rules.
A staff member must be present at all times. Staff reserves the right to refuse any photography practice that puts the preserve at risk.
Preserve access is (always) weather permitting.
For questions please email: info@westcave.org