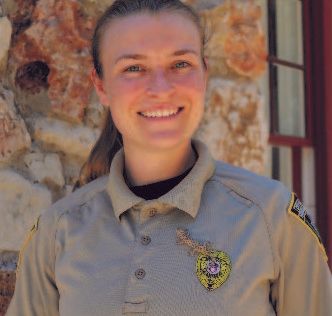 JOHN F. AHRNS AWARD FOR ENVIRONMENTAL EDUCATION
Kerstin Johansson, City of Austin, Park Ranger Education & Outreach
Kerstin Johansson was born in Vermont where she has fond memories of catching frogs and exploring the woods with her family. After graduating from college, she has been passionately working for a world that is more sustainable, equitable, and where people are more connected to nature. Locally, Kerstin has been involved with coordinating climate marches and rallies, and organizing her neighbors around wildlife habitat and healthy creek initiatives. She loves bringing people together and connecting over solutions to environmental and social justice issues, and nowhere is that more evident than in her work with the City of Austin's Park Ranger Cadet Program.
Kerstin has been leading the charge in Park Ranger Cadet Program for over three years. She has transformed this program into a TEKS-aligned outdoor practicum for young adults at Akins High School. This program emphasizes an array of conservation and educational aspects with a special focus on Women in Conservation. By helping to create individualized paths to success, Kerstin has sent off many rising Cadet Leaders to go on to work for the City of Austin, Texas Conservation Corps, The Nature Conservancy and other environmental partners. Just as John Ahrns did for over 35 years, Kerstin is helping raise the next generation of environmental leaders, whose positive impact and momentum will create a more sustainable future that will be felt for many years to come.
ABOUT JOHN AHRNS
John Ahrns is among a rarefied group of first-rate naturalists and served as the Preserve manager and lead educator from Westcave's beginnings in 1976 until his retirement in 2010. John Ahrns began his work at the Preserve by hauling more than 100 full-size garbage bags of trash out of the Westcave canyon. Years later, when he had accomplished an astonishing restoration of our cave and grotto, John set out to build an environmental education program that now attracts more than 6,000 children each year. Previous winners include: City of Austin – Earth Camp, Danna Keyburn of Redeemer Lutheran School, David Matthews of Small Middle School, Johnny Wilson of St Stephen's Episcopal School, William Earley of Laurel Mountain Elementary, and LCPL Nicholas S. Perez Elementary School.