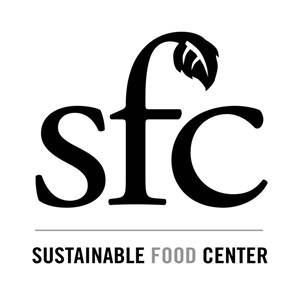 Sustainable Food Center
MISSION:
Sustainable Food Center cultivates a healthy community by strengthening the local food system and improving access to nutritious, affordable food. SFC envisions a food-secure community where all children and adults grow, share, and prepare healthy, local food.
From seed to table, SFC creates opportunities for individuals to make healthy food choices and to participate in a vibrant local food system. Through organic food gardening, relationships with area farmers, interactive cooking classes and nutrition education, children and adults have increased access to locally grown food and are empowered to improve the long-term health of Central Texans and our environment.
SFC TRAINING FACILITY
The new Sustainable Food Center Training Facility is centrally located in East Austin, its target area of service, immediately adjacent to the Capital MetroRail MLK station, just two stops from downtown. In addition, a connected bike route is planned next to the MLK Station, providing further access to its center and community garden. This space will serve as a destination point for families and individuals accessing services and participating in community activities. The Training Facility includes:
More than 7,000 square feet of space
Fully-equipped commercial kitchen
2.3 acre community garden adjacent to the property
Outdoor learning pavilion, greenhouse for cultivating plant starts, composting operation, and gardening shed
Walk-in pantry for food storage
Outdoor deck for growing herbs in containers
Office spaces, conference/media room, and resource Library
PROGRAMS:
Grow Local empowers children and adults to grow their own food by offering the education and resources they need to start and sustain gardens at schools, homes, and areas accessible to neighborhood residents.
Farm Direct connects local growers with schools, urban residents, and institutional food service operations worksites in demand of fresh produce through weekly SFC Farmers' Markets and direct marketing projects, such as farm-to-cafeteria, farm-to-school, and farm-to-work.
The Happy Kitchen/La Cocina Alegre® is a nationally recognized cooking and nutrition education program that nurtures skills in food selection and preparation.
PROJECTS:
Sprouting Healthy Kids is a nationally recognized project that combines the efforts of SFC's three flagship programs to increase direct access to nutritious food for school children by empowering students to grow their own food in school gardens, adding local farm produce to school cafeteria menus, and implementing a food system curriculum.