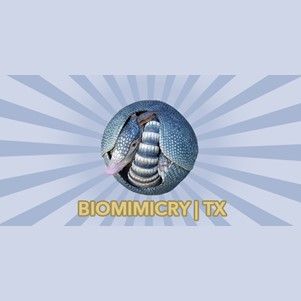 Biomimicry Texas
BiomimicryTX Mission:
Create an environment within Texas to nurture and grow a regional community of people who are learning, emulating, and conserving life's genius to create a healthier, more sustainable planet.
BiomimicryTX Vision:
Strive to increase respect for the natural world through the practice of understanding nature as a model, a measure and a mentor for design and decision making; help inventors and entrepreneurs bring their technologies from concept to commercialization; facilitate development of educational programs for students, professionals and the general public; advocate and support public policies that promote biomimicry as a solution to sustainability challenges; and inspire the Texas community that profits from biomimicry to provide financial support for embracing the biodiversity within our state.
Then, we all evolved. In 2009, Janine, Dayna, Bryony, and Chris began to look for a more efficient and cohesive way to integrate the work of the two organizations. In 2010, they founded Biomimicry 3.8, a hybrid social enterprise comprised of a for-profit B Corporation and a 501(c) 3 not-for-profit corporation under a single brand and integrated management strategy.
Learn more at: http://biomimicry.net/