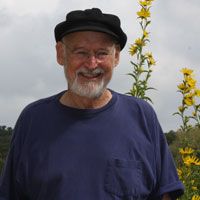 Lunch with Lee Walker
Have lunch with Lee at one of his favorite neighborhood spots, Dolce Vita in Hyde Park.
About Lee Walker:
Lee Walker is a Senior Research Fellow at Plan II at the University of Texas where he taught for the past 20 years. He fell in love with nature as a boy splashing in a creek nearby, a creek now paved over by a shopping center. Lee visited Westcave in 1978 for the first time and has been active for the past 35 years as a Board Member, serving as Board Chair from 1983 to 2008. Lee helped lead the successful Save Our Springs campaign in 1992 which passed 2-1. Received Lifetime Achievement Award from Nature Conservancy in 2004. Chaired Capital Metro for 11 years from 1997 - 2007. Named Austinite of the Year by Austin Chamber of Commerce in 1997.