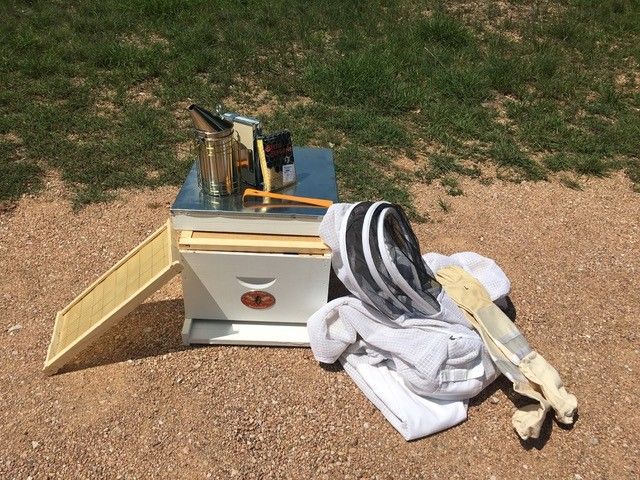 Beginning Beekeeping Package
Have you wanted to join the local Beekeeping community? Wanted to help these important pollinators increase in our community? Would you like a constant supply of your own local honey? Interested in the property tax advantages of keeping Bees? Not sure where to start?
This Beginners Beekeeping Package is for you! The package contains all the items and information you will need to start your own Bee colony in your own backyard.
Complete Cypress Deep Hive (for initial Brood Box) with 10 frames, bottom board, telescoping metal cover with inner cover.
Stainless Steel Smoker with heat finger shield.
Hive Tool.
Packet of Beetle Bee Gone sheets.
Either a Ventilated Protective Jacket with helmet and veil (any size requested) or gently used Best Ventilated Full Bee Suit (Large).
Ventilated Leather Gloves (any size requested).
The Beekeepers Handbook (4th edition) by Diana Sammataro
Beekeeping for Dummies by Howland Blackiston
Information and Contact Sheet including local Beekeeping Groups, Beginning Beekeeping Classes, places to purchase Bee Colony "nucs" to start your colony.
Donated by: Vicky Mathews