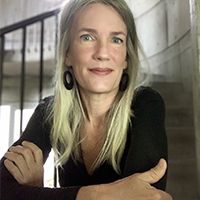 KATHY ZARSKY
Nature to Neighborhood Manager
Kathy is a naturalist and wandering curiosity factory. With more questions than answers, she is constantly driven to stay engaged in learning, exploring and connecting. While running her own business, HOLOS Collaborative, Kathy amassed 17 years in sustainable design consulting, research and education. Trained as an architect and one of the world's first trained Biomimicry Specialists through Biomimicry 3.8, she's adopted the core tenets of reciprocity and ecological intelligence. Kathy has spent most of her career honing her expertise in bioinspired innovation and design methods, imparting the motto "we are our ecosystem" wherever she goes. She utilizes an exploration process across systems and scales that integrates ecological processes and patterns, making her adept at synthesizing strategies that address the dynamic relationship between people and their environments. Her experience includes work on Austin's most notable green building projects, public speaking around the country on biomimicry and biophilia, locally and globally published essays, multi-year collaborations with SXSW for biomimicry panels-workshops-tracks, local and national leadership positions with USGBC and the Biomimicry Institute Regional Network Community, and unique educational offerings with universities and private clients.
In her new role as Nature to Neighborhood Manager at Westcave Outdoor Discovery Center, she joins a team of conservation and environmental scientists, biologists, educators and collaborators to develop new programming and partnerships to bridge the gap between communities and nature. Her aspiration is to explore and share the genius of nature in Central Texas to inspire new paradigms for nature and place-based education for children and nature-aligned solutions and innovations for communities. Nature continually adapts to maintain conditions conducive for life, and Kathy believes we all have the capacity to emulate these strategies in the places we live.
Kathy is also the founder of BiomimicryTX, a local node of the Global Biomimicry Network, sharing nature-inspired innovation through creative partnerships and events. Her days are filled by her two teenage boys, rock climbing, gardening, 3 goats + 2 dogs + 2 cats, tinkering, long wanders spent wondering outside, and an always growing library.