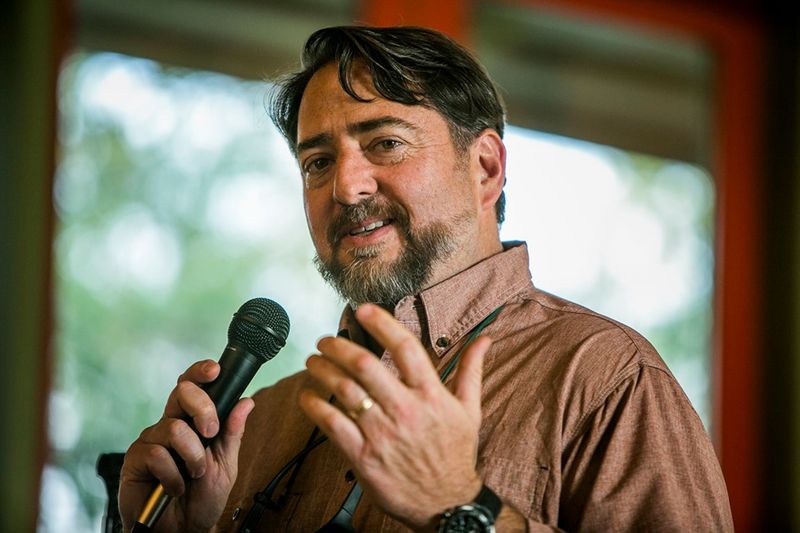 WESTCAVE WELCOMES TREVOR HANCE AS THE EXECUTIVE DIRECTOR
Westcave Outdoor Discovery Center today announced Trevor Hance as the nonprofit's new Executive Director and Chief Executive Officer. For the past eight years Hance has been an award winning educator, specializing in developing nature-based learning experiences and flexible learning spaces at Laurel Mountain Elementary in Round Rock ISD. Most recently, he authored a series of grants and guided the evolution of the school's physical landscape and learning model towards a focus on nature and conservation, realizing measurable gains in student success, teacher satisfaction, and community engagement. As the school's Coordinator for Enrichment and the Environment, he brought together public-private partners to create nature-based learning spaces recognizing biophilic design, topophilic connections, community, and holistic learning as essential elements of human development and academic achievement.
"This is a pivotal moment for Westcave. As kids and people become more sedentary and disconnected from each other and the natural world, Westcave champions meaningful and transformative outdoor experiences." said Suzy Rowley, Chair of Board of Directors for Westcave. Rowley continues, "Trevor's broad professional history and success developing innovative ideas across a variety of fields finds him particularly well-suited to build on our momentum and lead Westcave's efforts into the future."
Trevor Hance's work in nature-based learning has been recognized by a variety of organizations including the Texas Commission on Environmental Quality and the U.S. Environmental Protection Agency. He was selected as a 2015 NOAA Teacher at Sea, 2018 Grosvenor Teacher Fellow, multi-year Fellow with EE Capacity, and winner of the 2018 John F. Ahrns Award for Environmental Education and the 2019 Monarch Butterfly Scholarship Grant. In 2015, Hance joined Westcave as a volunteer on the Education Committee, and in 2018, joined the Board of Directors.
"I have a deep understanding and respect for Westcave Outdoor Discovery Center and share its mission of inspiring people to develop lifelong practices of enjoying and protecting nature to drive positive change," Hance said. "I am thrilled to bring my perspective to the opportunities ahead with colleagues at Westcave, the Children in Nature Collaborative of Austin, and broader stakeholders who share our vision for a more informed and better tomorrow for everyone."
Prior to education, Hance practiced law and had business interests in Louisiana and Texas, focusing on fundraising-event production, artist representation, and franchise operations. He holds a degree in Economics from the University of Louisiana-Lafayette, a Juris Doctorate from South Texas College of Law, and a Masters of Curriculum and Instruction from Angelo State University. He is an outdoors enthusiast who enjoys camping with his wife and daughters and section-hiking the Appalachian Trail with his older daughter each summer. He is also an avid fly-fisher and volunteers as a Certified Angler Education Instructor with the Texas Parks and Wildlife Department.
Trevor Hance will step into his new role on July 1st, 2019.
About Westcave Outdoor Discovery Center. Since its founding in 1976, Westcave Outdoor Discovery Center has been recognized as one of the most respected conservation and environmental education organizations in Texas, with a longstanding history of connecting people to the wonder and joy of nature through education, conservation, and collaboration.
In recent years, Westcave has expanded its stewardship from the fragile grotto and surrounding uplands to a focus on raising the next generation of environmental stewards. Today, Westcave Outdoor Discovery Center welcomes approximately 16,000 visitors to its stunning, 76 acre preserve set along a bluff above the Pedernales River and delivers more than a dozen programs (including partnering on an overnight camp) to adults and children in Central Texas.
With the creation of the Children in Nature Collaborative of Austin (CiNCA) in 2010, Westcave pushed the boundaries of traditional nonprofit business models and introduced a framework for more than 60 area member organizations to collaborate and advocate for the value of getting all kids outside. Westcave serves as the backbone organization, enabling an exponential reach of community resources to build capacity and develop tomorrow's leaders, problem solvers, and environmental stewards.
To learn more follow us on Instagram, Twitter and Facebook.
Contact: Teryl McFerrin at teryl@westcave.org, 512-276-2257x103.