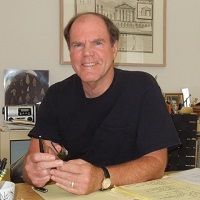 Robert Jackson is the architect of the Skaaren Environmental Learning Center, residence and office on Westcave Preserve. One of the hallmarks of their work has been our focus on earth-friendly design, one which started long before the recent 'green' trend. Whether designing in an urban environment or in a nature preserve, they consider the same basic principles: conserve and preserve the earth, water, air and energy as passively as possible. Efficiency, simplicity and unpretentious design is their goal. Jackson McElhaney's sustainable design work has received local, state, national and international recognition.
The WCELC on the Preserve has received 6 major awards including being named one the top 10 "green buildings" in the US in 2006.
Robert has been a member of the Westcave Education Committee since 2006.