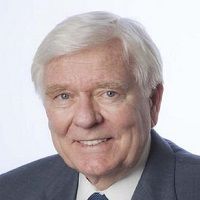 Malcolm Cooper is a Senior Vice President - Financial Consultant with Stephens Inc. He has 49 years' experience as a financial consultant, twenty-nine of those years in management. As a graduate of The University of Texas at Austin, he holds a BBA and MBA degrees. Prior to joining Stephens in 2012, his investment career includes serving as a financial consultant and office manager for RBC Wealth Management and Merrill Lynch, and office manager for the former Austin offices of Rotan Mosle and Kidder Peabody. Malcolm is a member of Investment Management Consultants Association (IMCA).
Malcolm's extensive community responsisbilities include past president and board member of the Austin Children's Museum, trustee of the Episcopal Theological Seminary of the Southwest, past president and member of the Executive Committee and board member of the Capitol Area Council Boy Scouts, board member of the Austin Symphony Orchestra, member of the Town and Gown of Austin and the University of Texas, and board member and past president for the Headliners Club of Austin. He is a recipient of the honorary awards from the Boy Scouts - Silver Antelope and Silver Beaver. In 1988, he was awarded a Doctor of Humane letters (Honoris Causa) from the Episcopal Theological Seminary of the Southwest.
Malcolm and his wife, Robin, reside in Central Austin. They have four grown children and five grandchildren.