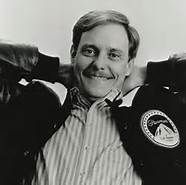 Warren Skaaren was one of Hollywood's most successful motion picture screenwriters in the 1980s. Amoung his achievements were writing the movies Batman, Beetlejuice, Beverly Hills Cop II and Top Gun.
Warren grew up in Rochester, Minnesota, and as a boy took long walks exploring the woods areound his home. During high school he earned the rank of Eagle Scout. After graduating from Rice University in 1969 where he served as president of the student body, he was offered a job by the Governor of Texas. At the age of 25, he became the first director of the newly created Texas Film Commission and quickly became a primary force in development of the Texas film industry.
Warren Skaaren possessed a unique blend of explosive creativity, charisma, zany humor, kindness, intuition and above all, emotional intelligence. Although he had no children, he was a mentor to many young people and served as a foster parent for several children.
One of his enduring legacies is the Skaaren Trust that he established with income from the motion pictures he wrote. Warren wanted his Trust to be used for children and the environment. The Skaaren Trust provided the seed money for the Environmental Learning Center at Westcave that is named in his honor.
Warren was an avid environmentalist who loved living in Austin and exploring the Hill Country. In one of his last letters to a young friend who was studying abroad he wrote: "The red buds are blooming now, and the dogwood called out for a ride along the greenbelt, so I shall mount my bat bike and bee off." He died of cancer in 1990 at the age of 44.